Is the Beagle right for you and your lifestyle ?
Physically, a medium sized sturdy dog with a short smooth coat.
He will need some grooming, a few minutes brushing the coat to remove loose hairs. Checking ears and nails periodically is sufficient. [ Oh and the occasional bath !].
Feeding a good quality food, have a quiet comfortable place to sleep.
A safe well-fenced garden to play.
Be taken out for exercise and have some company and your time.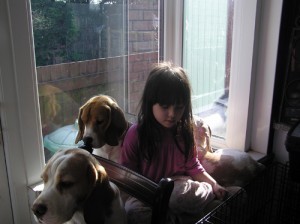 These are the basics for any dog but to take a Beagle into your life is a big commitment and needs careful consideration. It is important to consider for what purpose each breed was designed. The Beagle is a natural pack hound, enjoying the company of other dogs, animals and people. He does not like being left on his own for long periods which can be quite distressing for him. Are you a household where everyone is out to work and school all day?
A secure garden is essential. Some beagles are great escape artists so good solid fences at least four feet high with bolted gates are needed here. A comfortable bed in a quiet place he can call his own away from the family is ideal. I recommend a dog crate suitable for his size covered with a blanket. Here he can be private should he need be and safe if you need doors open or other circumstances when you need to know where he is. The crate is also ideal in the back of the car to keep him safe and comfortable on journeys.
He will need regular exercise on a lead each day. Remember he is a hunting hound so likely to follow a scent if allowed to run free, but can be trained to stay with you off lead in a safe environment. Generally not particularly obedient but will usually do as you ask for a small tit bit!!
Speaking of tit bits Beagles are very easily over-fed. Those big appealing eyes telling you he is really hungry is the way to loose his waist line and good health. A slim Beagle is a happy one. We feed our hounds twice a day, a small breakfast and the main meal at teatime. As mealtimes are one of the highlights of their day it gives them twice the pleasure. One main meal a day is quite in order too.
Beagles make good companions for children but great care should be taken if there are very small children in the household. A puppy has to learn that a small child is not another puppy used to rough puppy play and likewise children must understand that a puppy is not a toy. Both need to learn to understand and respect each other. If there are small children in the family will there be time for a small puppy in your daily routine? A baby puppy is as needy as another small child.
Now consider the cost. Apart from the initial cost there will be vaccination, insurance, feeding and general equipment i.e. Crate, bowls, lead, bed etc., At some stage there could be veterinary fees also.
If you have taken all this into consideration and feel a Beagle is for you, you have chosen a beautiful breed full of fun and great character. He should have a good temperament and be sociable. Make the rules, give him the boundaries, your time and respect and he will repay you with unreserved love and friendship for many years.
and help with the gardening……!!!!